Discover
Dragon Legend
LUXURY. CULTURAL. UNIQUE.
The name Dragon Legend Cruise echo's the legendary formation of Ha Long Bay where it is said that Mother Dragon and her children descended to help the Vietnamese people fight against invaders.
Luxury
ENTHUSIASTIC CREW
DELICIOUS SEAFOOD
SPA & MASSAGE
Exploring Halong Bay deserves an amazingly cruising boat to stay. Dragon Legend Cruise offers a luxurious cruising experience with a strong commitment to service quality and accommodation. Each of 24 spacious cabins is a masterpiece of artwork equipped modern facilities. Our luxury accommodations have been artfully crafted by Vietnamese cultural symbols to make you stay comfortable and warm. All other public use areas including outdoor and indoor restaurants, bar, seawater pool, spa… at the same top-grade tone will transform your stay into an extraordinary experience.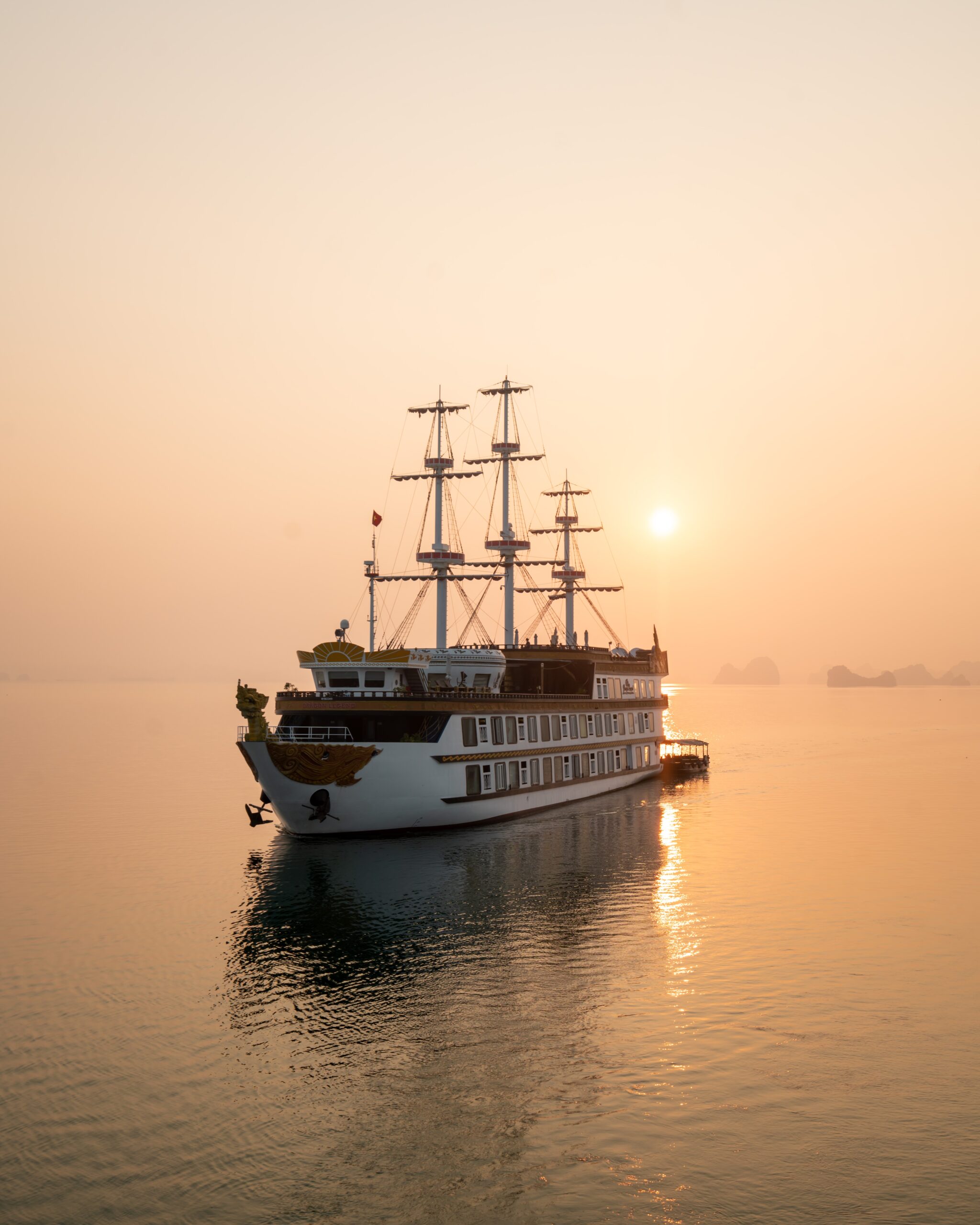 Local Culture
CHU DAU CERAMICS
RED DAO BROCADE
COPPER LOTUS FLOWERS
HUNG KINGS SYMBOLS
In homage to Vietnamese legends and the desire to share with visitors our distinctive cultural values, Dragon Legend Cruise devotes its design to satisfying the expectations of visitors who wish to gain insight into the singular elements that characterize Vietnamese culture.
The interior design of the well-appointed cabins, restaurants, and bar on this modern boat is an artful presentation of Vietnamese cultural design. The Dragon Head motif is the focus of the design together with Hung King dynasty decorative features and handmade cultural products from the many regions of Vietnam, bringing guests a sense of cultural experience and unique stay in this South East Asian country.

Cabin
IN-HOUSE TELEPHONE
NATURAL HARDWOOD FLOORS
LCD TV
MINIBAR
Each of the 24 spacious, wood-paneled cabins has been luxuriously designed for the comfort and enjoyment of our guests. The beautifully presented furnishings in each 26.5 sq.m cabin are influenced by traditional Vietnamese culture and comprise a collection of authentic, handmade art from different regions throughout Vietnam (Chu Dau ceramics, Red Zao brocade, wooden statues…)
The well-appointed, 9 sq. m bathrooms include bathtubs for a soothing seawater or fresh water treatment where guests can relax and gaze out on the Bay from a large window. Two of the cabins have connecting rooms to accommodate families.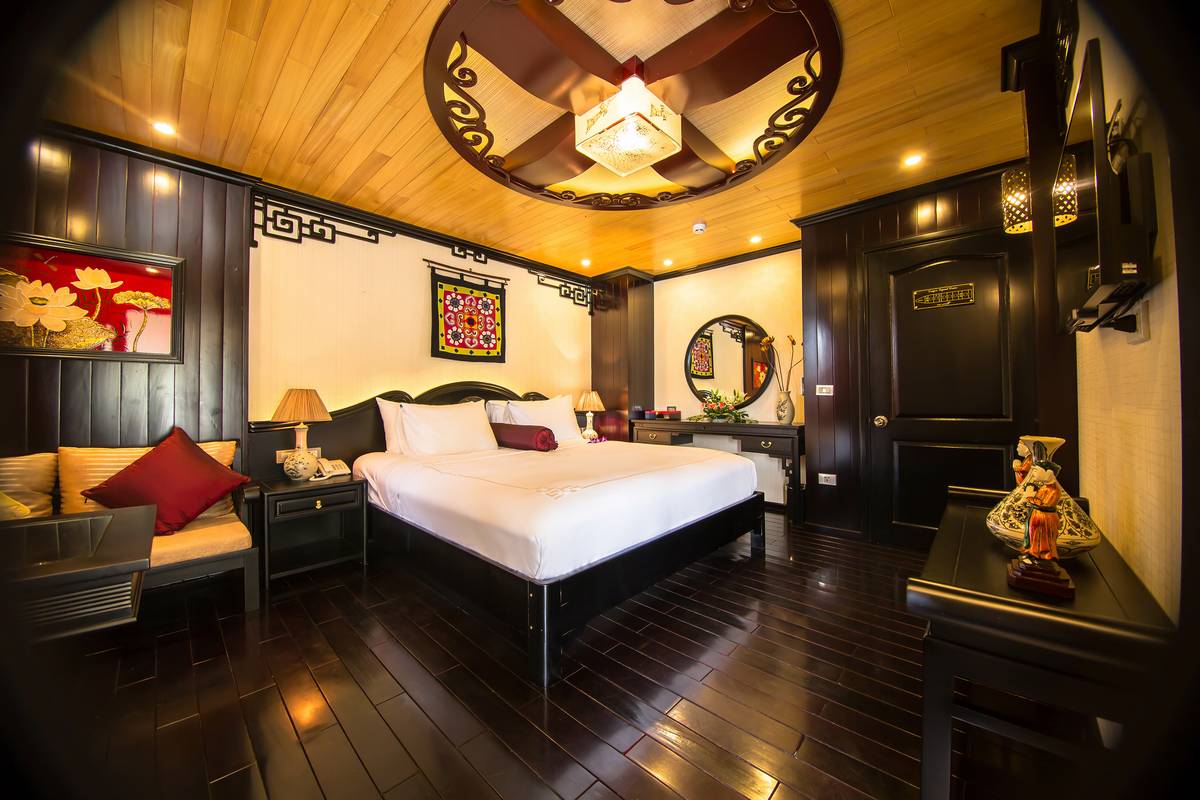 Dragon Legend boasts both indoor and open-air restaurants and bars to serve guests. The restaurants have been superbly designed with wood and metal elements in uniquely Vietnamese motifs. The traditional design, lighting, and wooden furniture make for a gracious settingfor dining indoors. The exceptional opportunity for outdoor dining (rare among the cruise offers in Ha Long Bay) is completed with an attractive rustic décor and charming lanterns, and imparts a feeling of harmony with nature.
On your Dragon Legend Cruise, you will be served a set menu, an à la carte menu and buffet meals with a diverse selection of delicious traditional Vietnamese cuisine composed of ahealthful balance of seafood, meats, vegetables and spices. Our talented chef will entice your senses and completely satisfy both your taste buds and your stomachs.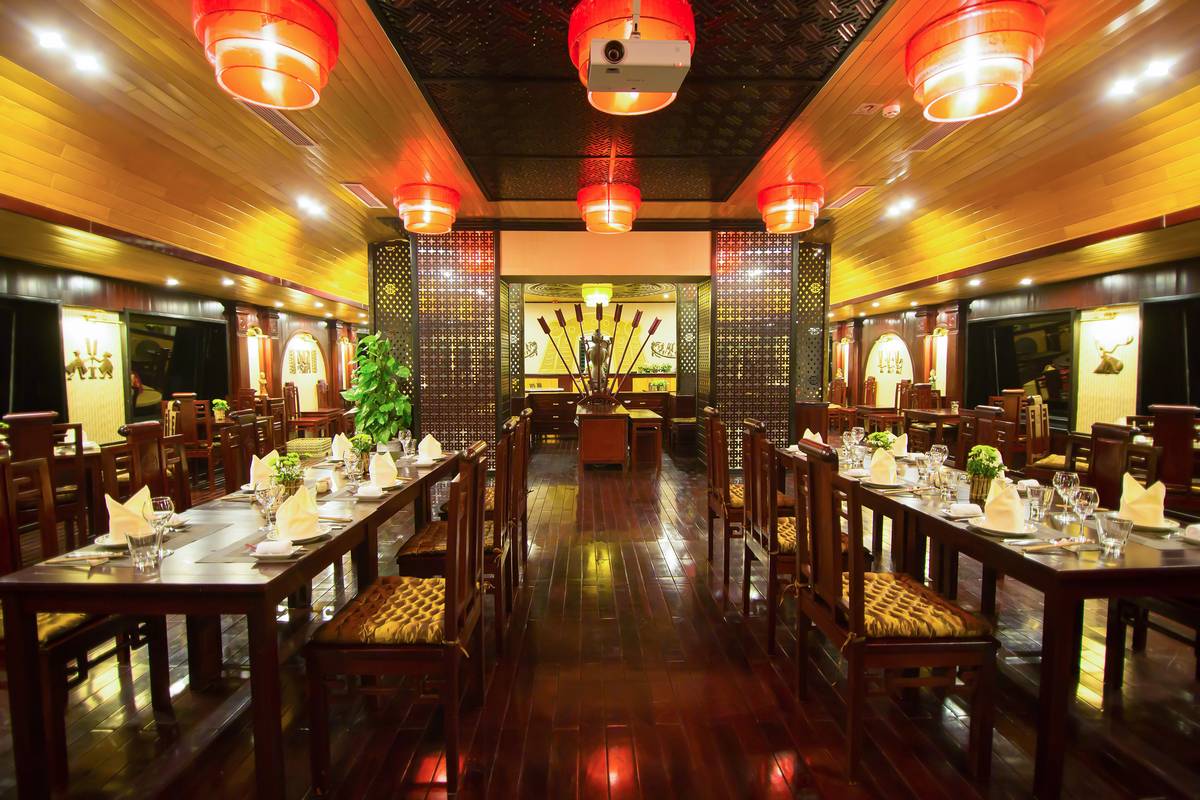 Relaxing on sundeck deserves you an endless view of Halong Bay, it is the best location onboard to have a panorama photo of the bay. Even when you are doing the early morning Taichi exercise or watching the sunset over, it is best to be on the sundeck, a higher place to capture a marvelous overview of nature. Dragon Legend boats allocate entirely the fourth floor for a spacious sundeck that you can enjoy such breathtaking view and shoot the best photos of Halong Bay.

In addition to our high standard service, we are pleased to offer refreshing spa treatments developed by our in-house masseuses including body treatments, skincare, facials and foot massages, performed by well-trained staff to bring the most relaxing moments to our guests.
The treatment areas have been impressively designed as circle spaces on the top deck of the Dragon Legend Cruise. For your comfort, there aresteam room, saunas and showers. Enjoy stunning views of the Bay while relaxing with a spa treatment surrounded by the delicate scent of essential oil.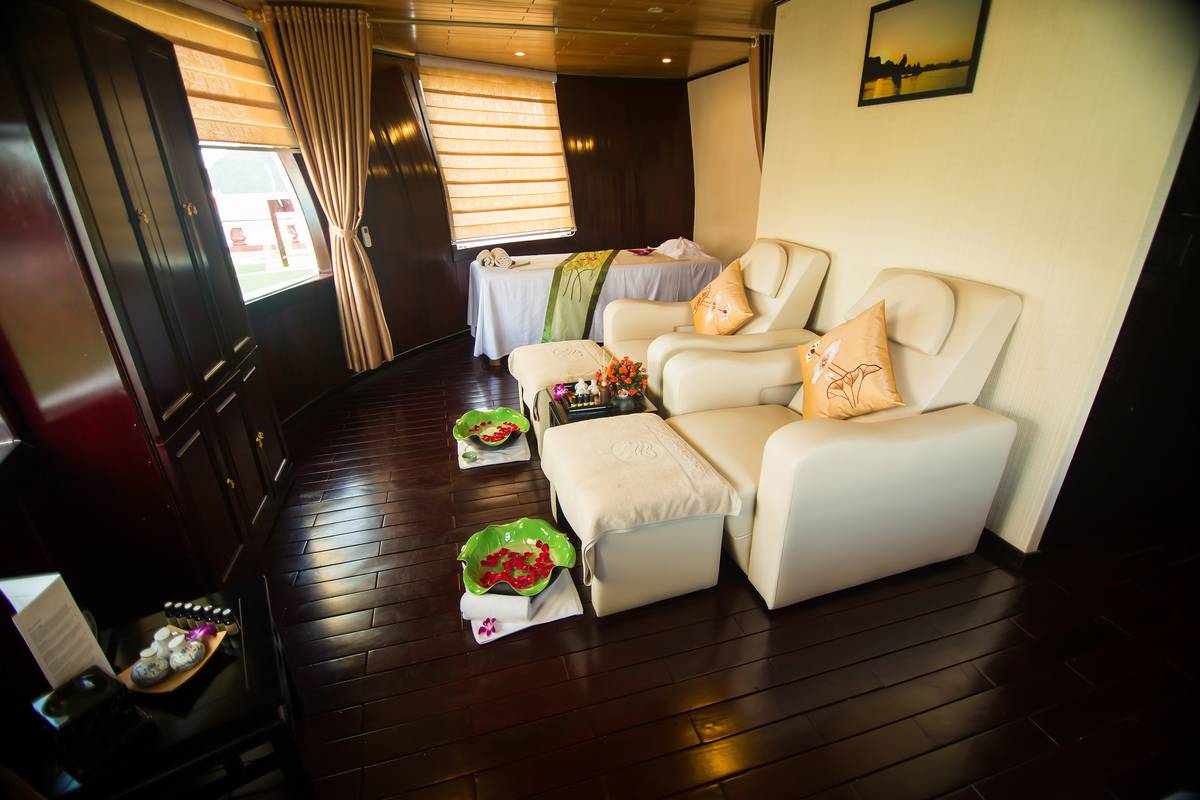 The steel boat building process was carefully followed, inspected and became certified then registered with Local Authority at the highest level of safety standard.
The marine safety equipment provided on board includes VHF Radio, GPRS, Water Ingress Alarm system, Fire Alarm System, Fire Extinguishers…
In the cabins, public areas and tenders, all safety facilities and life jackets are provided in easy access places. The lighting system, fire alarm, and extinguishers, emergency use hammers are ready for use in guest's cabin.
On board, our crew members have followed safety training courses and have knowledge in dealing with an emergency. Before boarding, our staff will present safety information with clear guidance during your stay.
A speed boat is available for support in the event of an emergency and local authority rescue teams stand by to help.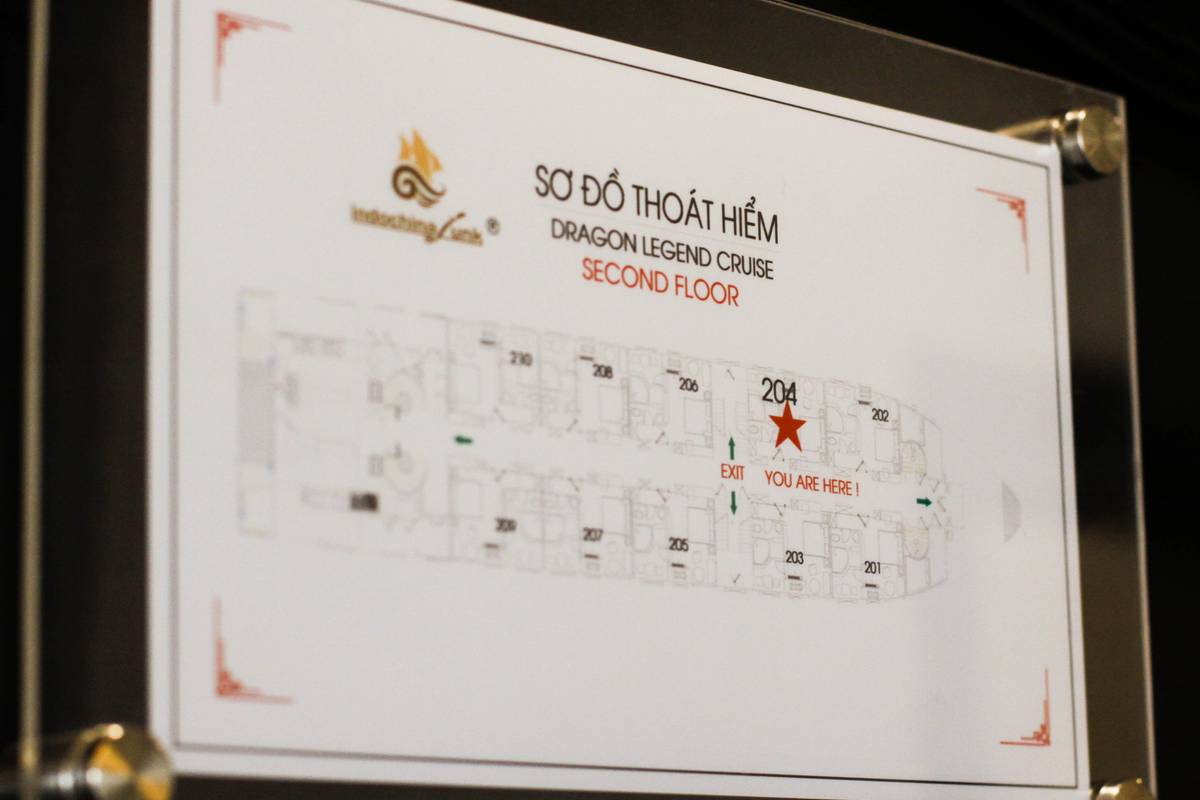 The food was delicious and plentiful. The rooms were beautiful and the beds were comfortable. It was relaxing and peaceful, but there were a lot of activities to keep us busy. They also take the time to explain the itinerary to you and also educate you on the "green bay" initiative which looks to try and keep the local area pollution free. I would love to go back and do it again!
What a wonderful experience in Bai Tu Long Bay. Wonderful itinerary planned and executed by the team. We even got a surprise honeymoon cake! Glass water bottles and the Green Ha Long Bay initiative is also a plus! The lunch and dinner was top notch dining experience. The rooms were big and 6 star quality. Awesome cruise!